NOFX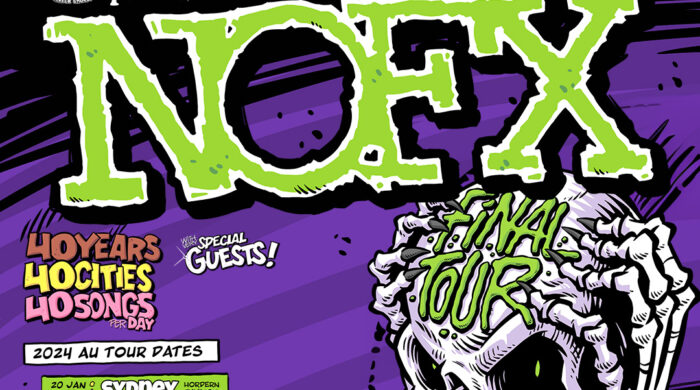 NOFX FINAL TOUR: 40 YEARS, 40 CITIES, 40 SONGS PER NIGHT HITTING AUSTRALIA IN JANUARY 2024! 
🔥 TICKETS ON SALE NOW!
Influential punk band NOFX is known as one of the world's most controversial and significant punk bands of their time. They are no strangers to pushing boundaries at their live shows, and their final tour will be no different. January 2024 will see the iconic punk band hitting the east coast of Australia for the final time. NOFX will perform forty songs a night, including 3 albums and rarities, plus they will never repeat a setlist to ensure that each show is unique.
Fat Mike adds, "This is not a final tour like Mötley Crüe or Black Sabbath…These are the very last shows NOFX will ever be playing. We are gonna play with all our hearts…With all our joy…And then we are done. We are done done."
What better way to celebrate the amazing career of NOFX. The final tour will see the band perform songs from their classic releases, Wolves In Wolves' Clothing, Punk In Drublic, The War On Errorism, White Trash Two Heebs And A Bean, So Long And Thanks For All The Shoes and The Decline over 2 nights in Melbourne, Sydney and Brisbane.
Exclusive fan VIP packages available from: Live Nation
SAT 20 JAN – SYDNEY, HORDERN PAVILION [NIGHT 1]
WOLVES IN WOLVES' CLOTHING / PUNK IN DRUBLIC / THE WAR ON ERRORISM
SUN 21 JAN – SYDNEY, HORDERN PAVILION [NIGHT 2]
WHITE TRASH, TWO HEEBS AND A BEAN / SO LONG AND THANKS FOR ALL THE SHOES / THE DECLINE
TUE 23 JAN – BRISBANE, FORTITUDE MUSIC HALL [NIGHT 1]
WOLVES IN WOLVES' CLOTHING / PUNK IN DRUBLIC / THE WAR ON ERRORISM
WED 24 JAN – BRISBANE, FORTITUDE MUSIC HALL [NIGHT 2]
WHITE TRASH, TWO HEEBS AND A BEAN / SO LONG AND THANKS FOR ALL THE SHOES / THE DECLINE
FRI 26 JAN – MELBOURNE, FESTIVAL HALL [NIGHT 1]
WOLVES IN WOLVES' CLOTHING / PUNK IN DRUBLIC / THE WAR ON ERRORISM
SAT 27 JAN- MELBOURNE, FESTIVAL HALL [NIGHT 2]
WHITE TRASH, TWO HEEBS AND A BEAN / SO LONG AND THANKS FOR ALL THE SHOES / THE DECLINE
Presented by SBM Presents & Live Nation