The Darkness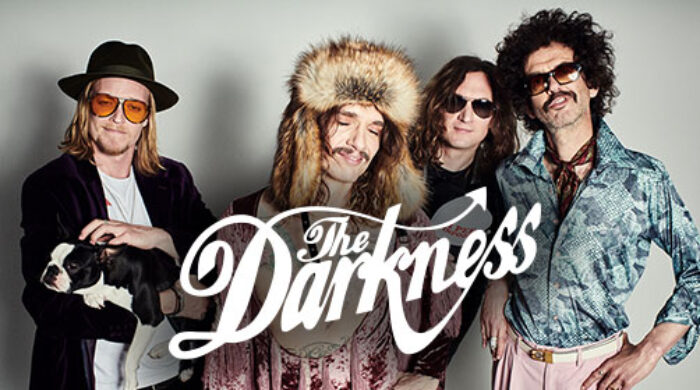 "The Darkness never fail. They put on one helluva show" - THE EXAMINER, HOUSTON
Motorheart Australia & New Zealand Tour 2022
Special Guests The Southern River Band (AU only), Mini Simmons (NZ only)
Multi-platinum UK rock icons The Darkness will be returning to Australia & New Zealand this October, playing shows in Sydney, Melbourne, Brisbane, Canberra, Adelaide, Perth, Auckland & Wellington. 
Brimming with their trademark blazing guitar riffs and solos, soaring falsetto and immeasurable rock 'n' roll extravagance, The Darkness will be operating at their loosest and most extroverted frequency. 
Fans will be treated to new songs from the band's new album Motorheart, along with slaying their award-winning, platinum-selling hit singles including 'I Believe in a Thing Called Love' and 'Love Is Only A Feeling'- a true spectacle to behold. 
With over three million concert tickets sold worldwide, four Top Ten albums, two hundred million streams on Spotify, five Top Ten singles and numerous industry awards and having toured with giants including Queen, Guns N' Roses, Black Sabbath, Def Leppard & KISS, The Darkness are one of the most successful rock bands of the modern era.
🔥 VIP EXPERIENCE UPGRADE 🔥 Buy Here
The Darkness exclusive VIP Experience is now available for Australia & New Zealand shows this October, giving you the chance to come and hang out with the band before the show! If you've already purchased your gig ticket, you can upgrade now to the VIP Experience!
VIP EXPERIENCE INCLUDES:
🔥 Attend soundcheck
🔥 Q&A interrogation session
🔥 Dashing photo with the band
🔥 Chance to perform a song with them on stage!
🚨 Strictly limited number of VIP tickets per show so if you're interested, they're on sale right now! It's a lot of fun, you won't regret it! 🚨
TICKETS ON SALE  NOW