Me First And The Gimme Gimmes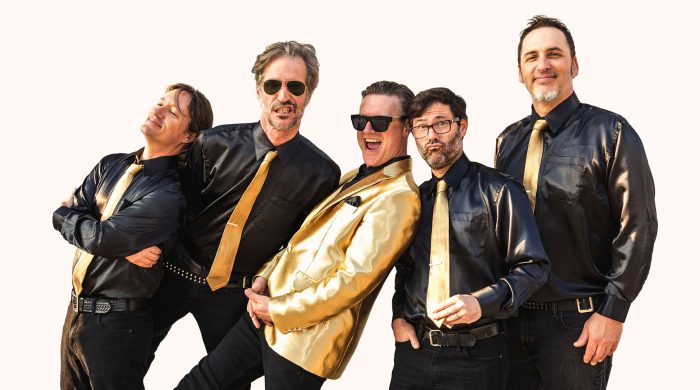 "Their flashy presence and brotherly banter makes every show feel like a momentous celebration" – New Noise
Dust off your dancing shoes, punk rock's greatest supergroup cover band, Me First And The Gimme Gimmes have confirmed a run of headline shows along with their Download Festival performance.
For the uninitiated, Me First And The Gimme Gimmes consists of Lagwagon frontman Joey Cape on the guitar, Scott Shiflett (Face to Face), on the other guitar, Lagwagon drummer and Fat Wreck utility superhero Dave Raun on the skins, and are rounded out by Jay Bentley (Bad Religion) and incomparable crooner Spike Slawson (The Re-Volts and Uke-Hunt). Together, Me First And The Gimme Gimmes—an outfit that has always operated more like a beer-hall Pussycat Dolls than a regular mortal band—contain so much hot air, so much pomp, so much attitude, that it's a wonder that these guys can still manage to pull their five individual tour buses into the same parking lot, put their differences aside and belt out the ballads without clawing each other's eyes out. But they do, for the love of the fans, the music, and of course, the applause.
"Their flashy presence and brotherly banter makes every show feel like a momentous celebration" – New Noise
So, what is really left to say about punk super-group and cover band extraordinaire Me First And The Gimme Gimmes?  After 7 studio albums, a live record and too many singles to count, they've tackled just about every genre under the sun.  Be it Motown, Country, show tunes, Japanese Pop (sung in Japanese!), these seasoned punk rock pros have triumphed on every occasion in a way only the Gimmes could.
"…all the guys are individually so interesting and charismatic you just don't know who to watch" – Vulture Hound
Their last Australian tour sold out completely. Lucky for you, the powerhouse that is Me First And The Gimme Gimmes are heading down-under singing all your favourite ballads, showtunes, Country, as well as Motown and pop. It's a show not to be missed, so race out and grab your tickets!